I'm sure many of us have clung onto items in our closets for longer than necessary, and saving that one sweater or pair of pants for the "someday" that we might want to wear it again. Well, it's that "someday" next Monday, February 11th!
It's time to clean out our closets and find something that hasn't seen the light of day in years and try to incorporate it into an outfit. It doesn't have to be an item of clothing, it can be some jewelry, handbag, or accessory, as long as it's not brand new. The older the better though!
I'd love for you to join in, and I can't wait to see what you guys dig out from the back of your closets!
Here's a button so you can link your post back here: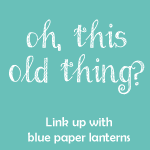 Hope to see you guys join in next week!